UEGW 2023 is just around the corner!
Get ready to connect with the IBD community at the United European Gastroenterology Week from October 14th to 17th, 2023, in Copenhagen!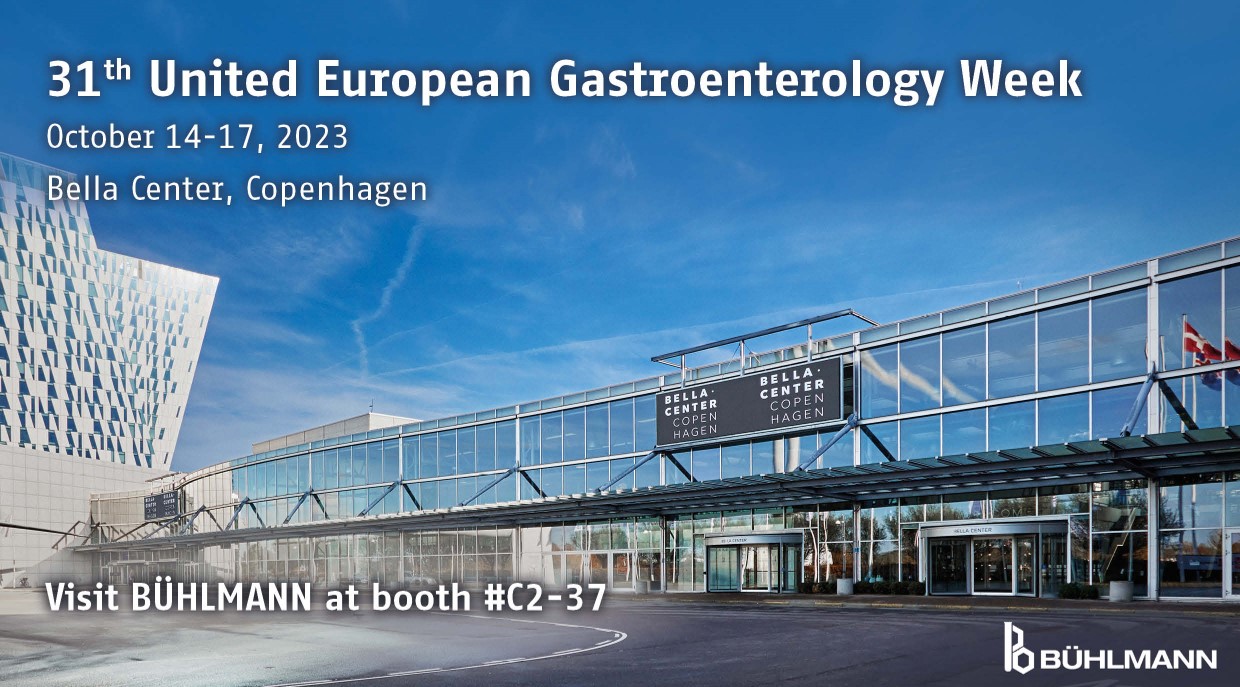 BÜHLMANN provides a wide-ranging fecal calprotectin portfolio that covers everything from laboratory diagnostics to patient care. Furthermore, through our Point of Care reader Quantum Blue®, we offer the complete rapid TDM solution for anti-TNFα biologics and their antibodies.
Calprotectin in IBD Diagnosis and Monitoring
Inflammatory Bowel Disease (IBD) includes Crohn's Disease (CD) and Ulcerative Colitis (UC), both of which are serious, incurable chronic diseases affecting the intestinal tract. IBD symptoms often mimic those of non-inflammatory diseases such as Irritable Bowel Syndrome (IBS). Fecal calprotectin has proven itself as an excellent surrogate marker in IBD diagnosis, helping to identify patients who may require further invasive diagnostic procedures. Additionally, calprotectin in stool provides a reliable method of monitoring in diagnosed patients, closely correlating with mucosal healing. High calprotectin values are indicative for active inflammation in the gut, while moderate fecal calprotectin values may indicate mild organic disease.
In IBD management, monitoring biologics trough levels (TDM) has become standard practice as part of therapeutic follow-up. In this regard, BÜHLMANN offers the most comprehensive product portfolio to support treatment decision-making in IBD. Moreover, BÜHLMANN is one of the main provider of rapid lateral flow tests for measuring biologic trough levels and testing for anti-biologic antibodies, further enhancing the precision and convenience of IBD patient care.
BÜHLMANN Highlights at UEGW 2023
IBDoc® Calprotectin Home Test Tutorial Video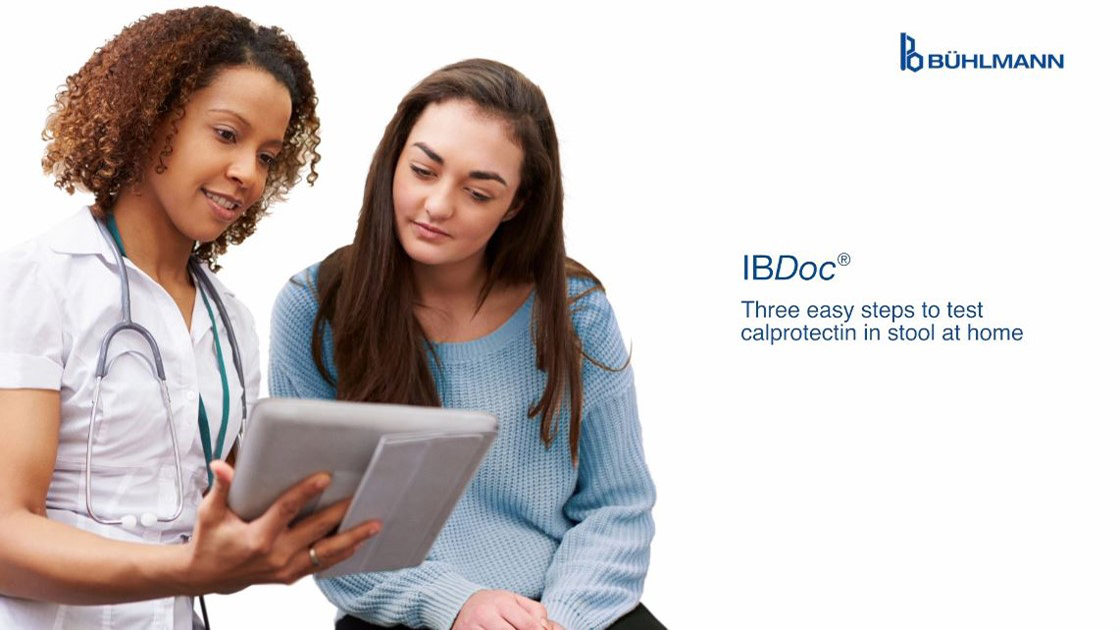 IBDoc® is a user-friendly home testing device designed for the quantitative assessment of fecal calprotectin levels. With simple steps, it enables the remote monitoring of calprotectin levels in IBD patients from the comfort of their own homes. IBDoc® empowers healthcare professionals to directly oversee and analyse patient results, enhancing the efficiency and convenience of patient care.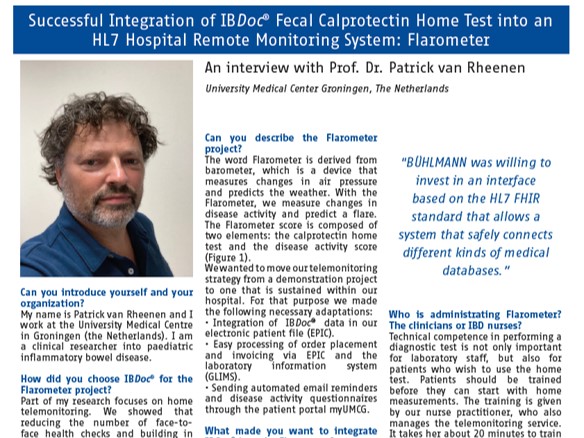 Professor Patrick van Rheenen, a distinguished pediatrician based at the University Medical Center Groningen (UMCG) in the Netherlands, shared insights into the seamless incorporation of the IBDoc® fecal calprotectin home test into a hospital's remote monitoring system. This achievement was made possible through the utilization of the standard HL7 communication pathway.
BÜHLMANN Quantum Blue® Capillary Blood Assays for TDM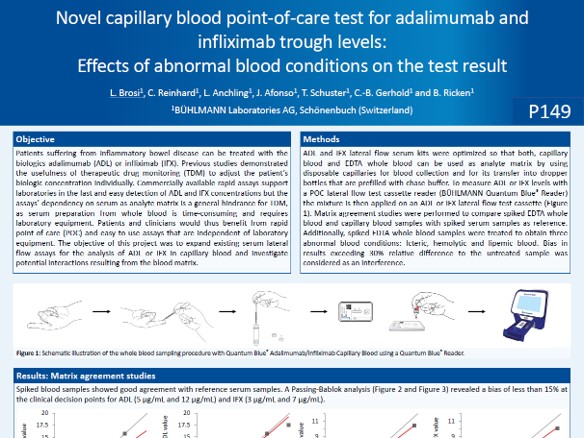 During ECCO 2023, Larissa Brosi presented the successfully developed two point-of-care assays (POC tests). They enable healthcare professionals to perform anti-TNFα monitoring by measuring biologics levels, using capillary blood or EDTA whole blood samples. These assays offer a remarkable time to results of just 15 minutes, eliminating the need for additional laboratory equipment.
BÜHLMANN Poster Highlights at UEGW 2023
PP0680, C. Reinhard et al., Switzerland
Clinical performance of four fecal calprotectin assays from smartphone-based home test to high throughput central lab methods
PP0662, A. Ohmann et al., Switzerland
Recombinant calprotectin as a promising tool to harmonize MRP-8/MRP-14 immunoassays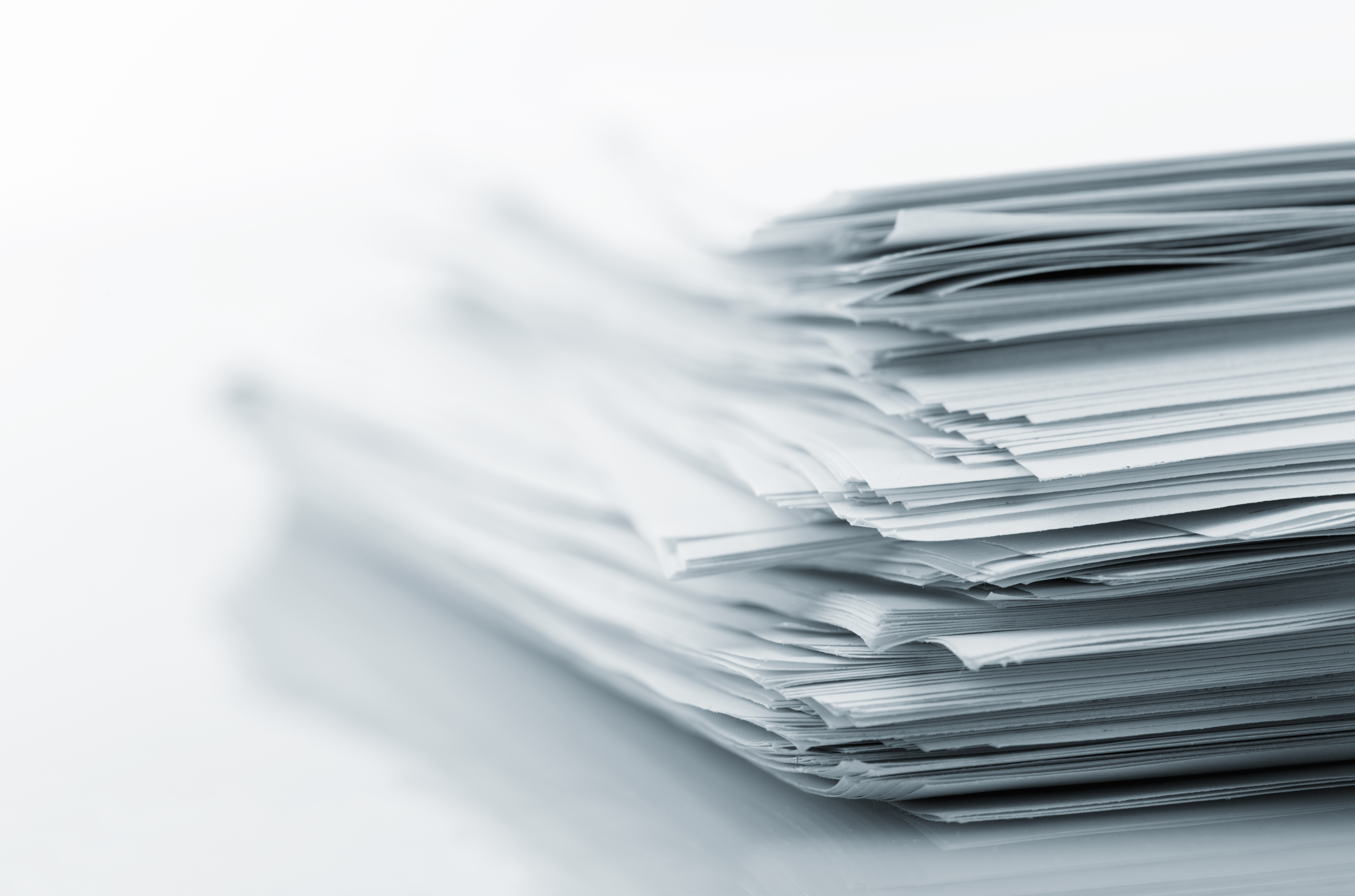 BÜHLMANN Calprotectin Assays and TDM Testing
BÜHLMANN is the gold standard for IBD diagnosis and monitoring offering the largest product portfolio of calprotectin testing and TDM rapid tests for biologics in IBD. The product portfolio includes the FDA cleared BÜHLMANN fCAL® turbo for high throughput testing. The immuno-turbidimetric fecal calprotectin assay BÜHLMANN fCAL® turbo provides flexible and random-access applications on all major clinical chemistry platforms. The assay allows short turnaround time from fecal sample to the reportable result. The combination of the test with the CALEX® Cap extraction device or the fecal home extraction kit CALEX® Cap Collection Set strongly simplifies the cumbersome procedure for stool pre-analytics and is adapted to be applied on clinical chemistry analyzers. BÜHLMANN also offers the FDA cleared market leader BÜHLMANN fCAL® ELISA and the Quantum Blue® calprotectin rapid tests. The Quantum Blue® point of care rapid test portfolio also includes assays for therapeutic monitoring of anti-TNFα biologics commonly used to treat IBD and other chronic inflammatory conditions. Further to that, the portfolio includes IBDoc®, a highly successful IBD home test for patients using an app that transforms smartphones into a calprotectin test reading device.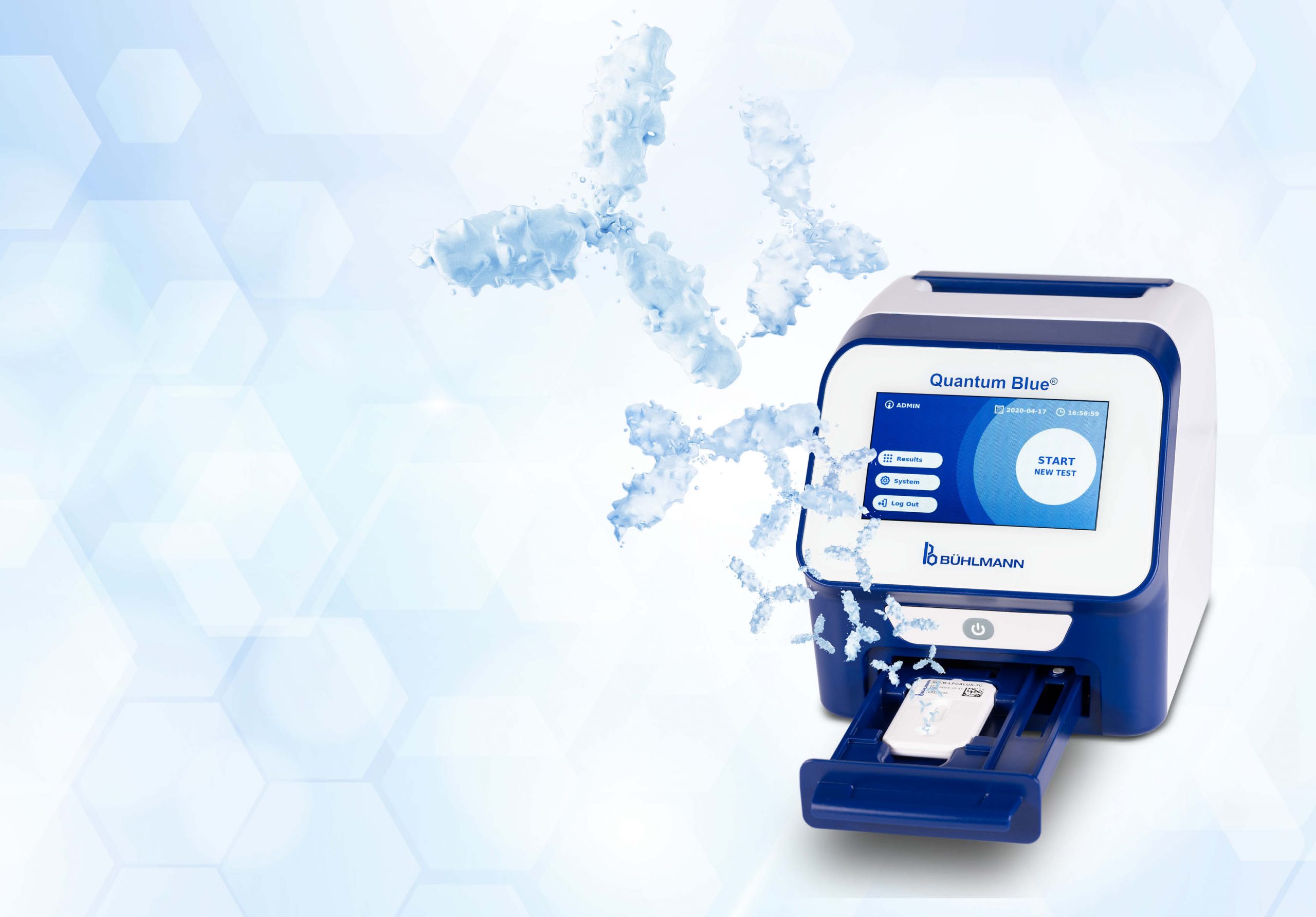 The BÜHLMANN Quantum Blue® rapid test combines the simplicity and speed of lateral flow technology with quantitative measurement capabilities through a small reading device. The Quantum Blue® Reader provides a quantitative value within minutes and is therefore an ideal tool in a point-of-care setting. The BÜHLMANN product line offers two different fecal calprotectin test ranges suitable for IBD diagnosis and therapy follow-up of IBD patients. Besides calprotectin assays, the Quantum Blue® portfolio includes therapeutic monitoring of anti-TNFα biologics on the Quantum Blue® Reader.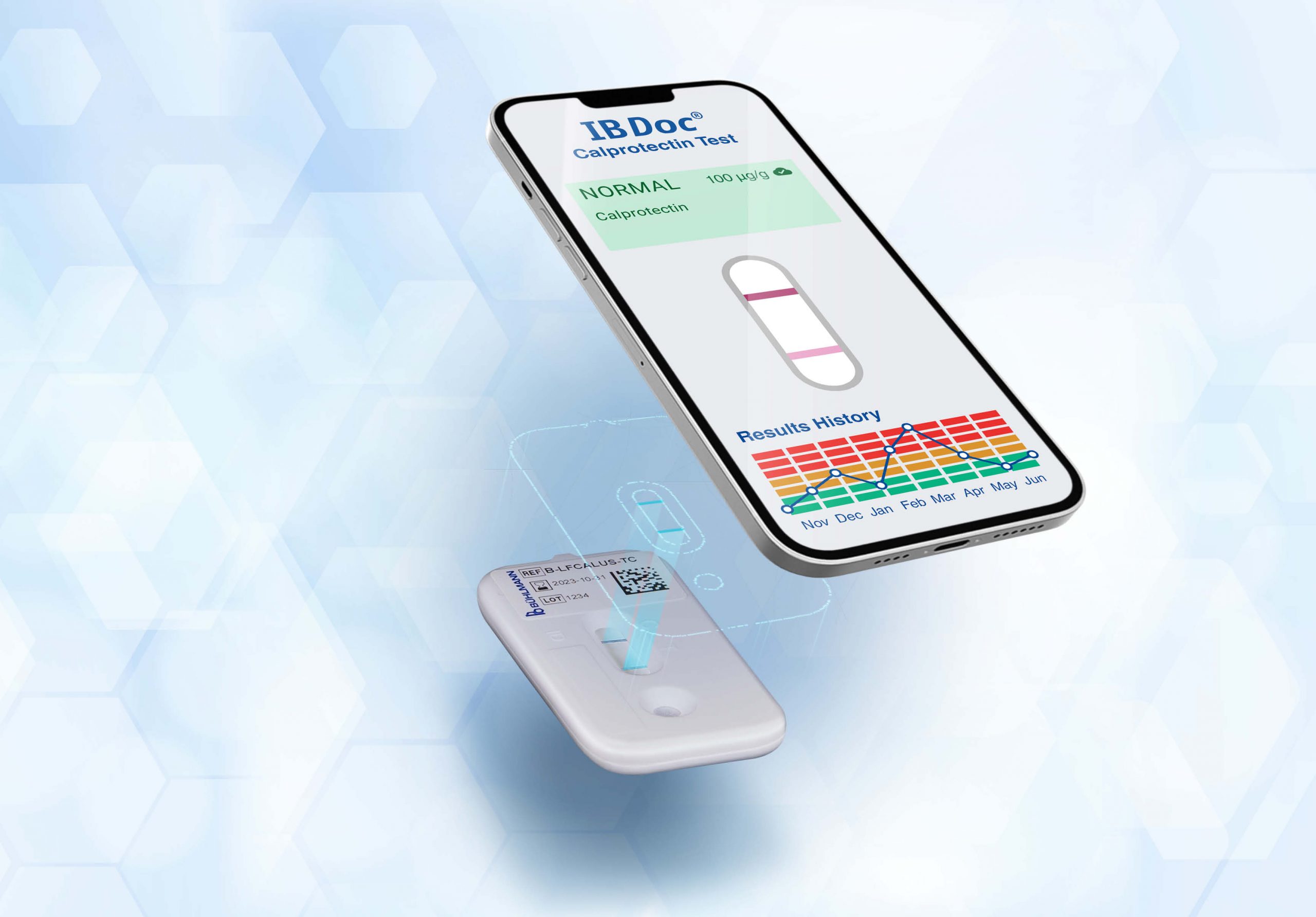 IBDoc® is the first in vitro diagnostic home testing device measuring the inflammatory marker fecal calprotectin at home. The IBDoc® app turns a smartphone into a test cassette reader using state of the art image processing. Stool extraction is performed using the CALEX® Valve that is characterized by its simple and convenient handling of stool samples. The secure data connection between the IBDoc® app and the IBDoc® Portal allows Health Care Professionals to directly monitor patient results. The IBDoc® Portal also includes an application programming interface (API) that directly transfers test results into electronic patient records (EHR) or laboratory information systems (LIMS) via a common web standard or HL7 based interface.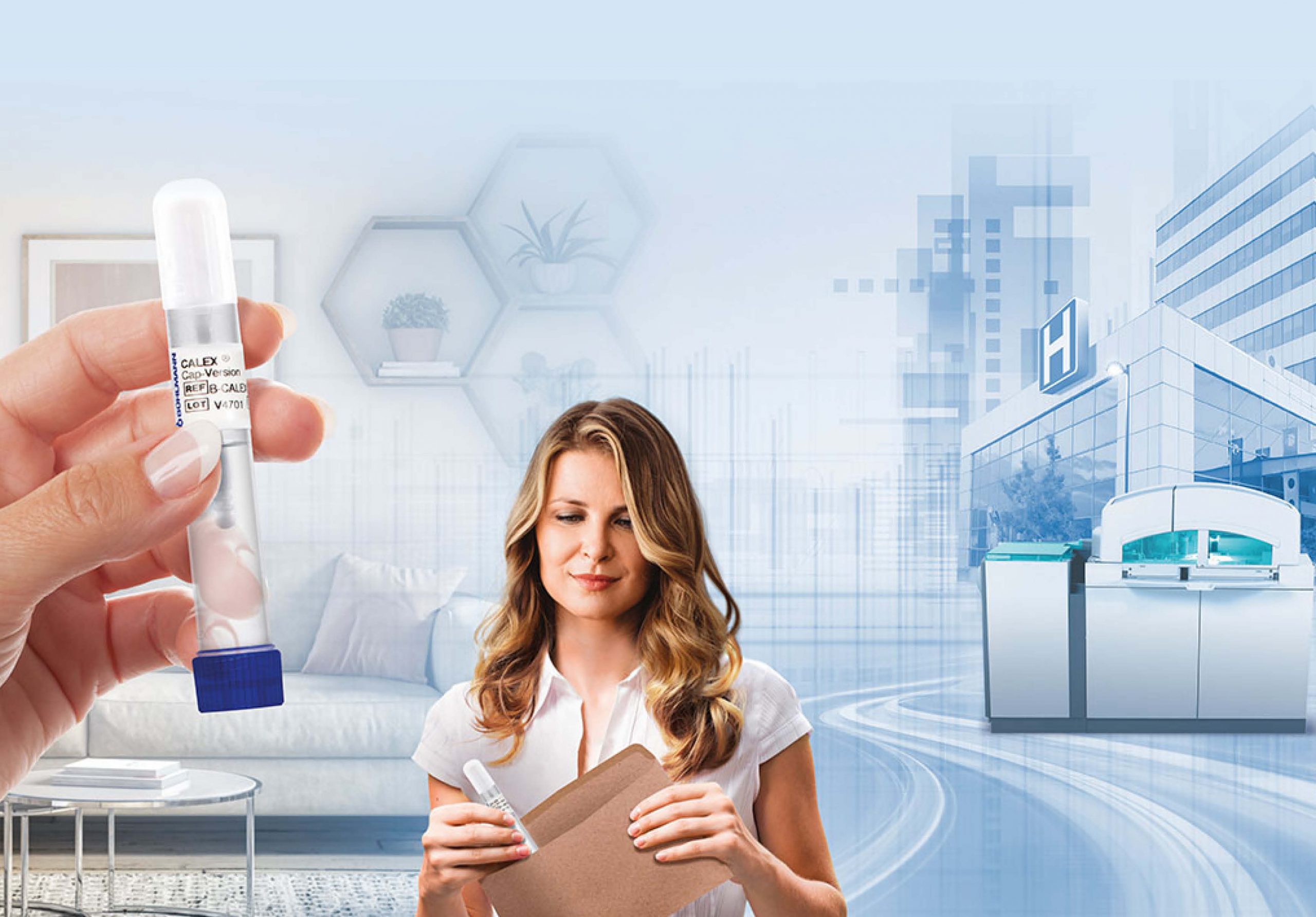 The CALEX® Cap Collection Set allows stool collection at the patient's home, in order to further simplify the complete stool extraction procedure. It is fully compatible with the BÜHLMANN fecal calprotectin and p-elastase assays and provides the laboratory with a ready-to-use extract for safe, fast, and reliable analyte measurements. The CALEX® Cap extraction device offers an efficient, convenient, and hygienic home stool collection.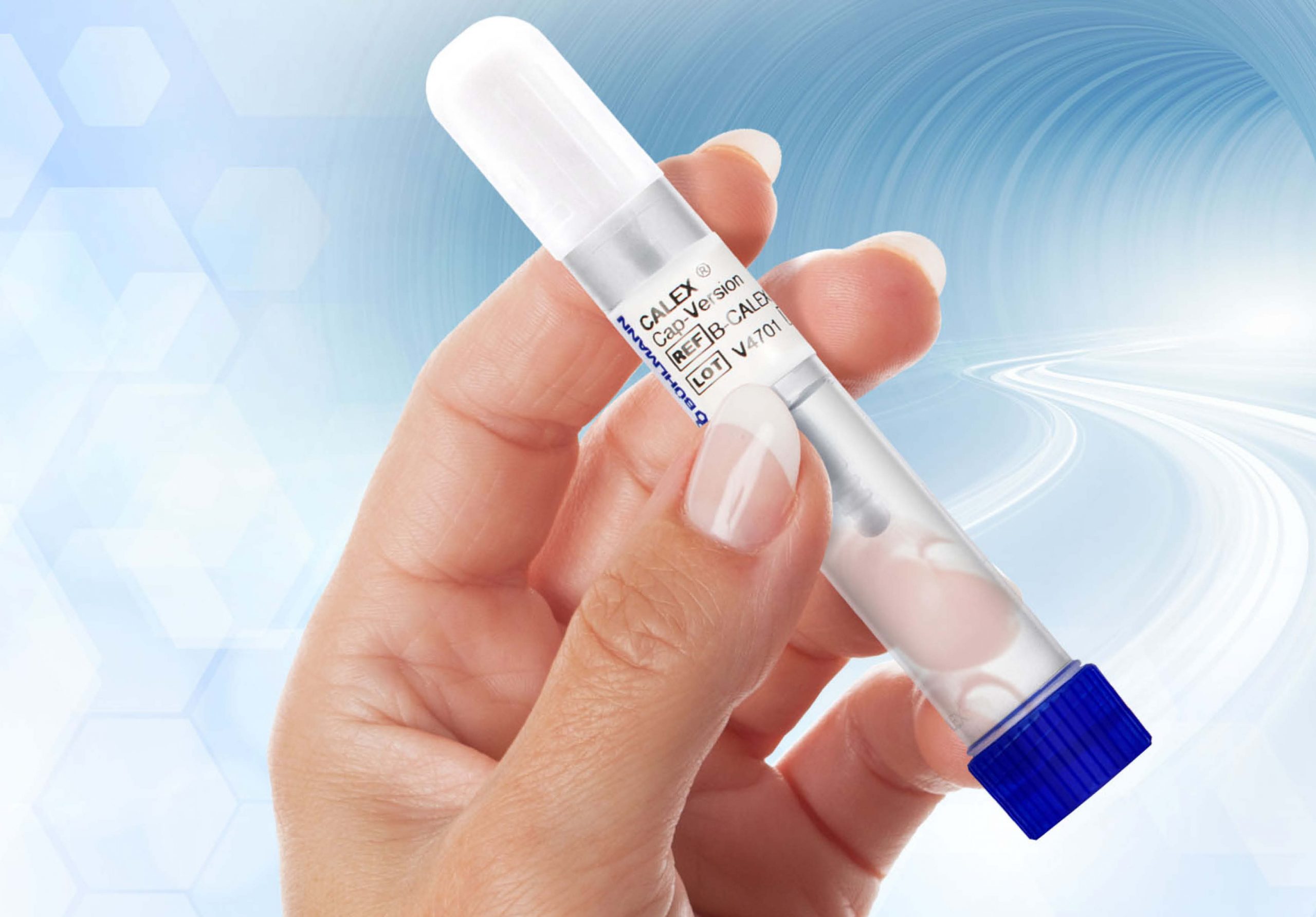 The BÜHLMANN CALEX® Cap extraction device offers an efficient, convenient, and hygienic stool extraction. Its simple design makes it an ideal extraction device characterized by high safety standards and by offering high stability of stool samples. Furthermore, the CALEX® Cap is fully compatible with total laboratory automation (TLA) solutions increasing speed of sample processing and reducing hands-on time.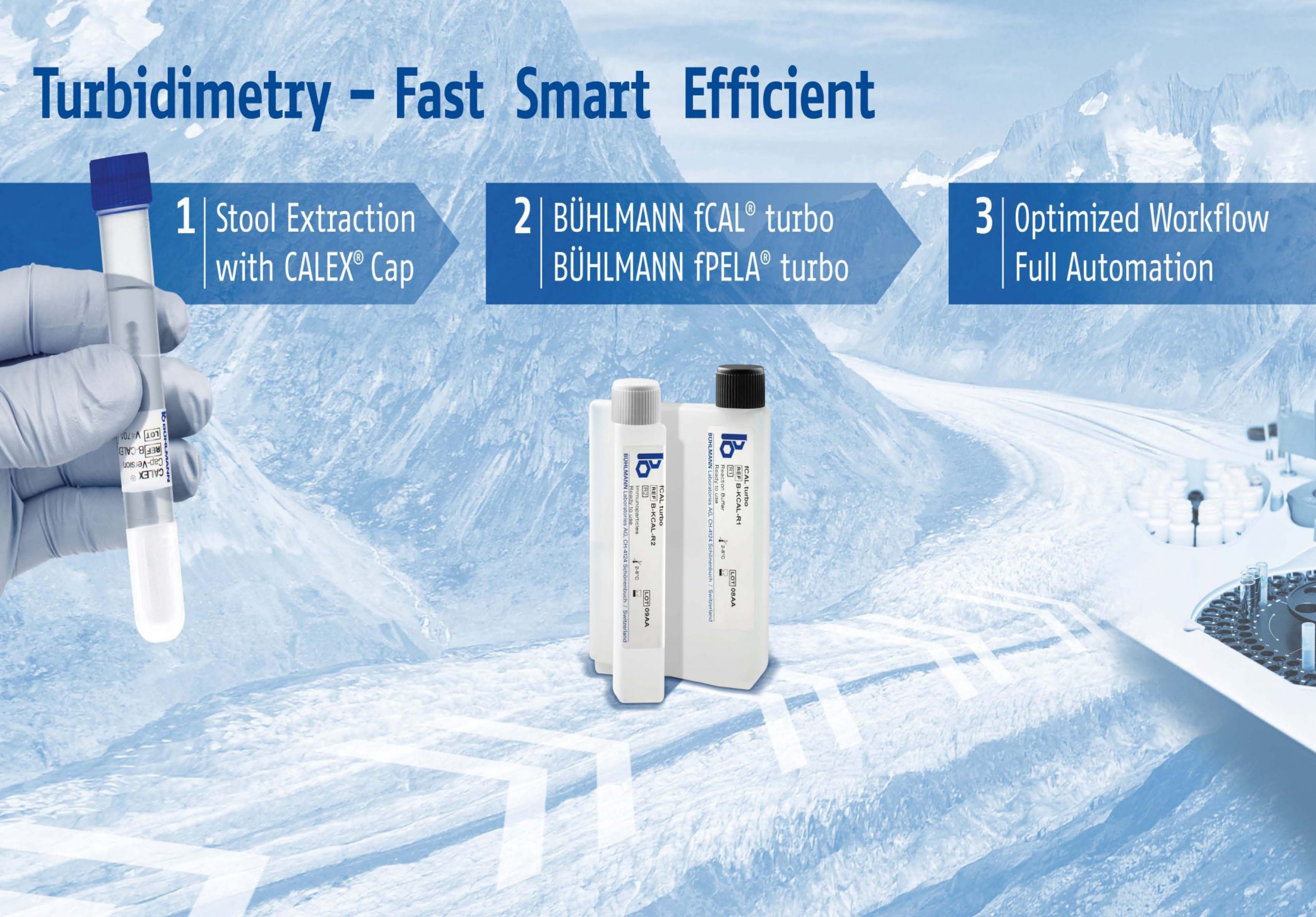 The new assay BÜHLMANN fPELA® turbo and the well-established BÜHLMANN fCAL® turbo together with the CALEX® Cap have revolutionized fecal testing of pancreatic elastase and calprotectin. Both turbidimetric immunoassays can be easily applied for a wide choice of clinical chemistry analyzers, providing TLA with fast turn-around-time (TAT) and optimizing laboratory workflow.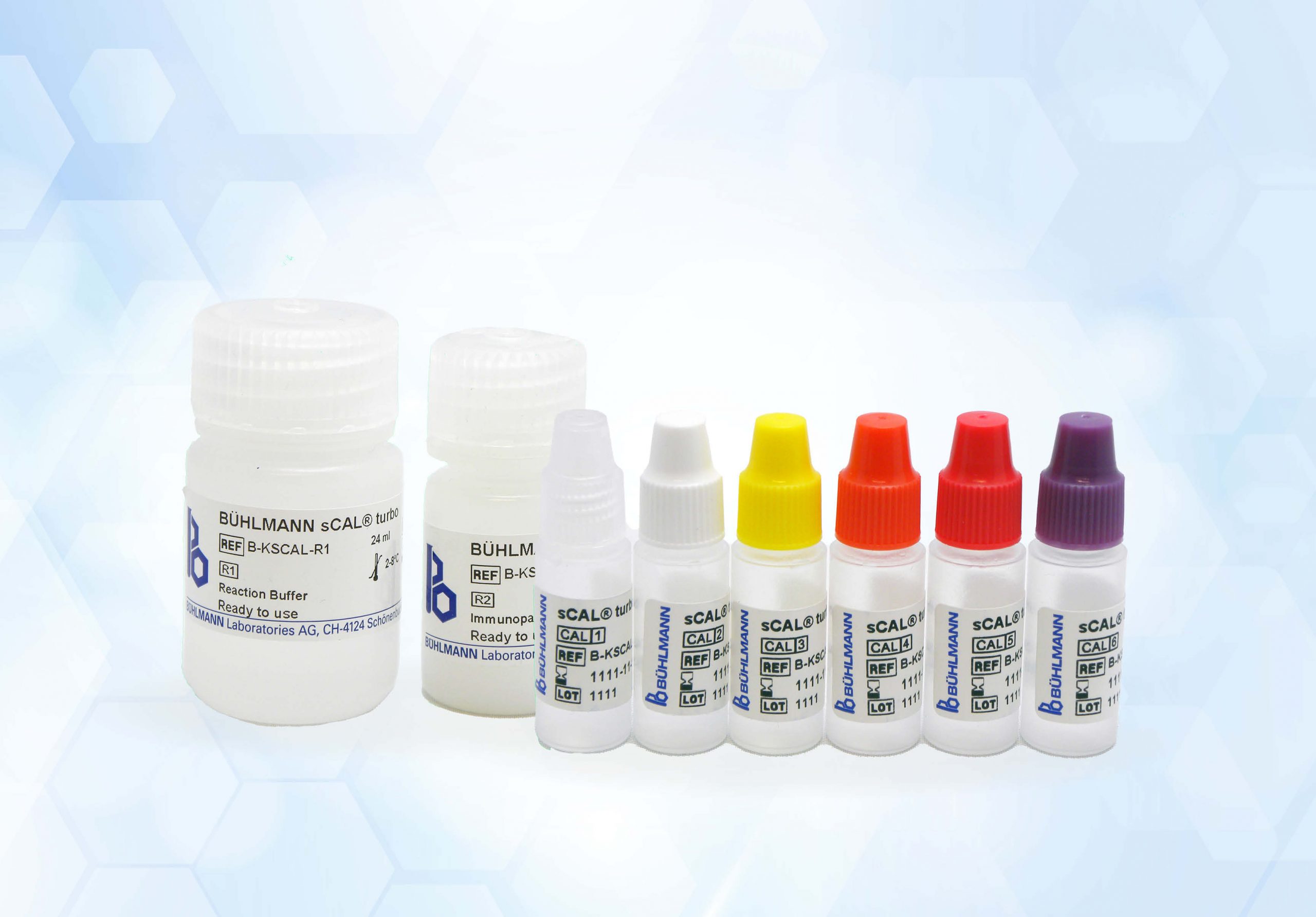 The BÜHLMANN sCAL® turbo assay is a flexible and powerful tool to be applied on most clinical chemistry analyzers for measurement of serum calprotectin. The turbidimetric technology allows rapid and flexible random-access options offering high throughput in the routine laboratory. Another major asset of the BÜHLMANN sCAL® turbo assay is the dramatically reduced hands-on time compared to other technologies, allowing serum calprotectin result reporting within a very short time.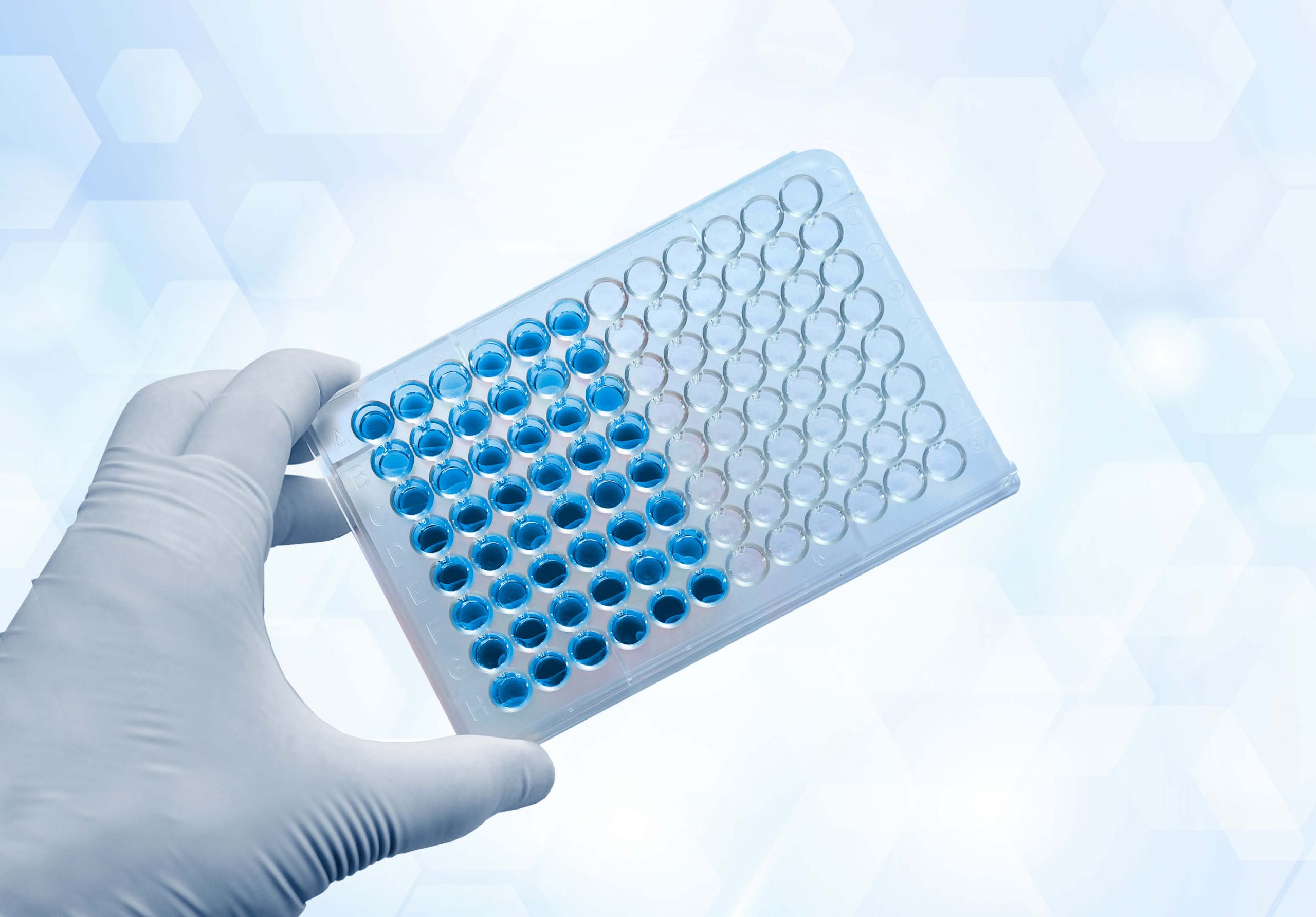 BÜHLMANN has launched its first assay for fecal calprotectin testing more than 15 years ago and owns the gold standard with the BÜHLMANN fCAL® ELISA. Two protocols are available with the BÜHLMANN fCAL® ELISA to cover different calprotectin ranges for IBD diagnosis and monitoring.